Long Term Major Medical Plans - Private & Public Exchanges
Going forward there are only 2 ways to get a long term Major Medical plan that are ACA compliant,so that means either going through the Public or Private Exchanges. Not all carriers are in the Public Exchange. But all carriers in the Public Exchange are also in the Private Exchange. Either way, we can assist you on both.
3 Main Things You Need To Know:
There are Public and Private Exchanges.
Public Exchanges are run by either the state or federal government. The incentive for shopping on a Public Exchange, is you could qualify for a subsidy.
Private Exchanges are run by private companies instead of the government. You can shop for all different types of plans from different insurance companies. You can't get a subsidy on a Private Exchange.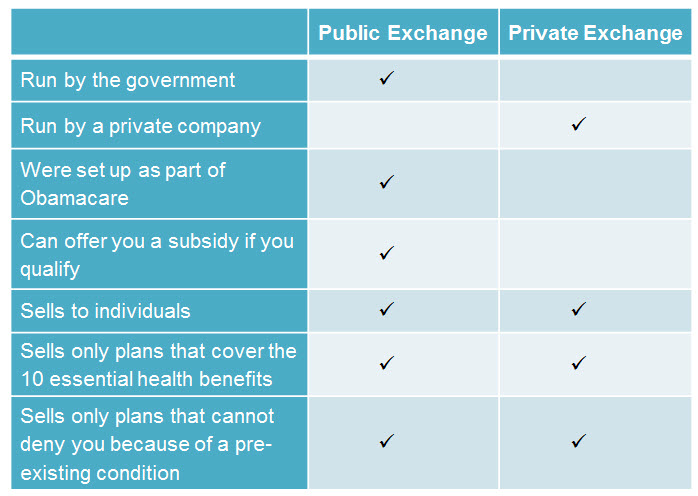 PRIVATE Exchange:   
Maybe your not fond of shopping on a government run website and won't qualify for a subsidy. In that case, you would prefer the Private Exchange. These are run by private companies and offer plans from the same brand name companies as the federal exchanges. All plans on any exchange must provide certain levels of coverage and must cover the 10 essential health benefits.
PUBLIC Exchange:
Healthcare.gov is where it all started for the "Public" Exchange. Sometimes you'll hear this being called the health insurance marketplace, they are the same thing. This website launched October 1, 2013 and was built and controlled by the federal government. This is a good place to start if you want to purchase insurance on government-run exchange, as opposed to a Private Exchange. Another website that has a better user-experience is Healthsherpa.com.
BE AWARE: Not all plans are created equal. Not everything is based on premiums or deductibles. Networks plays a big part in not just savings but choosing which doctors and hospitals you can see or go to.

DO NOT: Try to go and apply to the Public Exchange website on your own. Let us guide you through the process to avoid all the hassles and delays. 
Short Term Plans
When a life change leaves you without health insurance, you need coverage to get you through the transition period.
Short Term Plans are available year round and are not restricted to any Enrollment Periods.
Temporary insurance plans are usually more affordable than traditional individual health coverage. 
Fixed Benefit Plans
A Fixed Indemnity Medical Insurance plan allows you to receive specific first dollar payments for covered healthcare services, regardless of what your medical provider charges.
Fixed Benefit Plans are available year round and are not restricted to any Enrollment Periods.
This differs from traditional Major Medical plans where you must first satisfy a deductible every year before you are eligible to receive benefit payments. 
Vacation Insurance Plans 
Even the most careful travelers aren't immune to car accidents, natural disasters or other unforeseen events. Most travelers assume they will covered by their existing medical insurance plan, but that isn't the case. While traditional plans may offer adequate domestic coverage, they are not designed for international travel. Your vacation can transform delightful to dire if you are unprepared for a medical emergency.                                                                                   
Our vacation insurance plans are perfect for:
International travelers
Cruises
Safaris & Guided Tours